Wonder Clips - Tarp & Awning Clamps
Wonder Clips - Tarp & Awning Clamps - PR Global Store
roll over the image to zoom in
---
Product details
Our 10 piece wonder clips are designed to give you a quick solution when you are in a need to tie down a rope, secure a tarp, need an anchor point to bungee cords, or hang any cover on the roof to create a canopy. The locking clamp grips the object directly for superior power.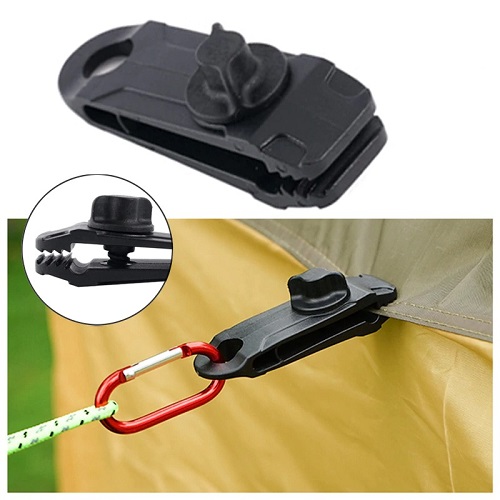 Main Features:

Instant solution to your anchor point needs.
These locking clamps provide an instant anchor point to attach any standard bungee cord, tie-down or rope, help you grip the object directly with superior holding power.
Our tarp clips securely attach to your tarps or blankets. The alligator mouth is specifically designed to offer a more stable closing between the tarp and clip, allows a more effective clamp only by squeezing it.

Simple to Install and Remove
Easy-to-use tightening screw. The rotational lock allows you to tighten or loosen in order to customize the tightness of the adjustment of thin or thick covers, no worry about damaging or detaching your tent or canvas.
Strong Gripping Power
Heavy-duty lock grip tarp clips designed with adjustable spiral thumb screws and alligator mouth with teeth hold tarps much more stable than the normal clips, without using any tools or making any holes.

Multi-purpose Functions
Tarp clips are designed to provide outdoor enthusiasts, travelers, and adventurers with a versatile and easily storable accessory. Convenient for any use: outdoor camping, tent, awning, canvas, tarpaulins, and more.


Available For A LIMITED Time, So Get Yours TODAY!
Hand Made on Order
100% Quality Guaranteed Plus Secure Shipping
Pick Your Colour

 

and

 

Size
Click on the

 

Buy It Now button
Product in High Demand. Whilst Stock Lasts!
WHY BUY FROM PR GLOBAL STORE
PR Global Store was founded in the heart of the United Kingdom with the goal of bringing year round, outside-the-box shopping because as we all know, gifts aren't just for Christmas. We stock nothing but the most innovative and unique products so that you may never again have to hear those dreaded words, "did you keep the receipt?".
The great support we've received from our UK customer base over the years has allowed us to extend our reach to over 50 countries via International Distribution Centres. 
Customer Service is a huge priority for us because let's face it, without you guys none of this would be possible! For this reason we offer around the clock support via email and are happy to answer any questions you may have.
We're so confident in the quality of all the products we design and stock that we offer a store-wide 90 day guarantee on absolutely every item in every single order. So whether you're shopping for a friend, family member, other half or simply looking to treat yourself, enjoy it all with the added benefit of being 100% risk free! 
Click on Buy It Now and experience the PR Global Store Difference
Product reviews
Be the first to review this product.