Keychain Fire Starter Survival Tool
Keychain Fire Starter Survival Tool - PR Global Store
roll over the image to zoom in
---
Product details
When venturing into the wild, a
 

fire starter

 

is one of the most valuable resources you should carry besides a fresh supply of water and a sharp blade.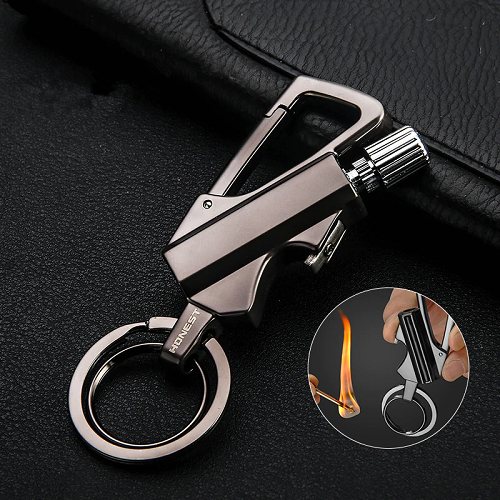 The problem begins when your box of matches gets wet due to intemperate weather, or when your lighter quickly run out of butane. At this point, the situation can get dangerous, fast.
In such cases, a magnesium or ferrocerium fire starter is your best bet at keeping you warm through a cold night, cooking food and signaling for help if necessary.
Unique Design: This multi-purpose key chain multitool integrated with a flint metal match lighter, a beer bottle opener and an EDC keychain.
Utility Versatile: This keychain is a perfect tool as it combines utility and convenience, which making it a must-have hiking or camping gear for hunting, traveling and other outdoors activities.
Durable: the flint starter and adjustable cotton can endure at least 10,000 strikes. Premium quality magnesium core striker.
Great Gift Ideas: Free Mountaineering buckle Mini Flashlight and standby parts. It is designed very elegant and fancy, packed with an elegant gift box.
How to add kerosene:

1. Unscrew the bottom with a coin counterclockwise
2. Add kerosene vertically
How to use it:
Step 1: Turn counterclockwise to pull out matches
Step 2: Matches slide down on magnesium bars
Step 3: Flame generation for fire, etc.
Available For A LIMITED Time, So Get Yours TODAY!
100% Quality Guaranteed Plus Secure Shipping
Pick Your Size (adjustable)
Click on the Buy It Now button
Product in High Demand. Whilst Stock Lasts!
WHY BUY FROM PR GLOBAL STORE

PR Global Store was founded in the heart of the United Kingdom with the goal of bringing year round, outside-the-box shopping because as we all know, gifts aren't just for Christmas. We stock nothing but the most innovative and unique products so that you may never again have to hear those dreaded words, "did you keep the receipt?".

The great support we've received from our UK customer base over the years has allowed us to extend our reach to over 50 countries via International Distribution Centres.

Customer Service is a huge priority for us because let's face it, without you guys none of this would be possible! For this reason we offer around the clock support via email and are happy to answer any questions you may have.

We're so confident in the quality of all the products we design and stock that we offer a store-wide 90 day guarantee on absolutely every item in every single order. So whether you're shopping for a friend, family member, other half or simply looking to treat yourself, enjoy it all with the added benefit of being 100% risk free!

Click on Buy It Now and experience the PR Global Store Difference
Product reviews
Be the first to review this product.