NHS Compression Arthritis Gloves
NHS Compression Arthritis Gloves - PR Global Store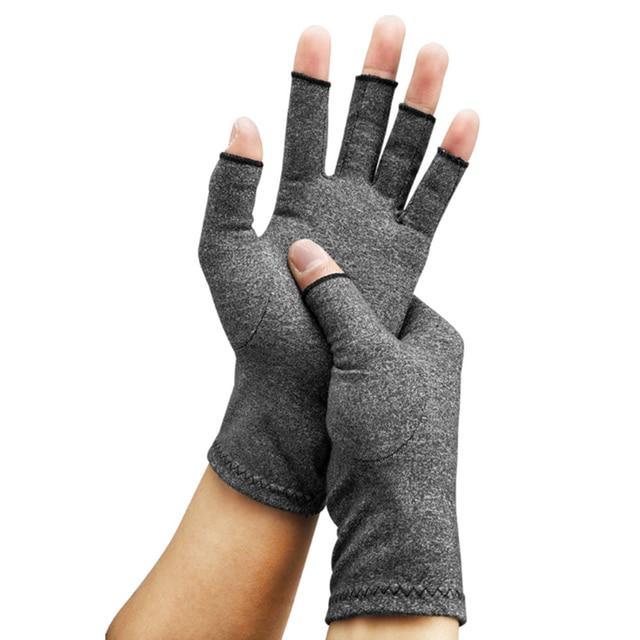 roll over the image to zoom in
---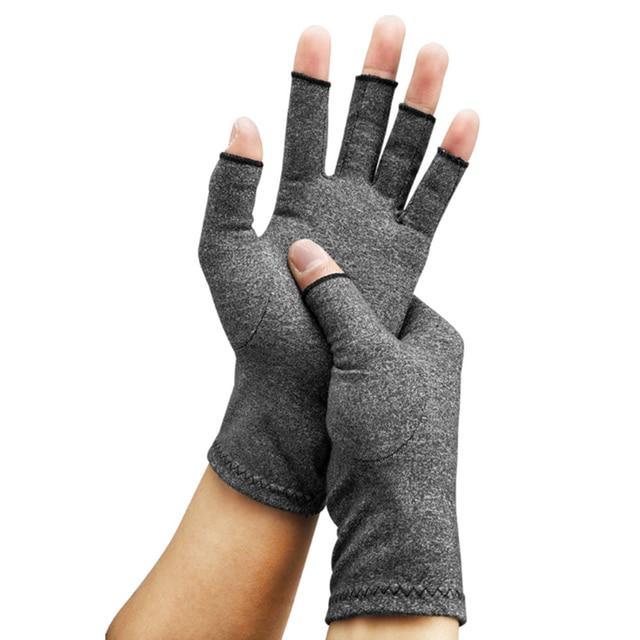 Product details
Want to relieve Swelling, Pain & Stiffness in your hands? Imagine being able to do what you love

 

without painful movements caused by inflammations. That's the result of good compression with our Compression Arthritus Gloves.


FEATURES:
RELIEVE ACHES AND STIFFNESS: When your hands hurt, it can distract from your day life. By providing mild compression, these give extra support to thumbs, fingers, wrists and knuckles by focusing on pressure points and providing extra warmth.
EFFECTIVE, NON-INVASIVE RELIEF: Continue living your life as you always have. Open fingertip design lets you use your phone, type, tie your shoes and pick up glass jars without fear of fumbling or slipping. Feel, touch and grip without any extra bulk.
COMFORTABLE AND BREATHABLE DESIGN: With a cotton-spandex blend, you'll find a snug fit that won't make you sweat all day long.
SMART SEAM STITCHING: Minimal stitching to reduce irritation and maximize comfort.
MONEY BACK GUARANTEE: Your gloves are backed by our unconditional 60 Day guarantee. Order now with confidence.
By providing gentle compression to the hands, Compression Gloves provide

 

therapeutic warmth and increases the blood circulation

 

throughout your hands and wrist,

 

alleviating pain and swelling
Chronic inflammation of the wrists can make it seem impossible to use your hands for your day to day tasks. This symptom often leads to carpal tunnel syndrome, the usual cause of which is weakened or damaged bones.
It's so frustrating to not be able to do what you need to because of painful hands. Moreover, the symptoms of arthritis can cause fatigue, muscle aches, poor appetite, and even depression. 
These Gloves are proven to promote better blood flow helping arthritis, carpal tunnel, injured muscles, joints, tendonitis, and MUCH more! 
---
Choose your Size:
TARGETED COMPRESSION THERAPY
Gentle compression reduces pain, inflammation,
and stiffness in the wrist and hand

ALL DAY WEARABILITY
Easily and comfortably wear throughout the day and night
Flexible, open fingertip design allows you to easily perform everyday tasks
REDUCE CARPAL TUNNEL AND ARTHRITIS
Compression design relieves inflammation and stress on pressure points while easing pain located in hand and wrist muscles, tendons, and joints.
Size
Package Includes:
1 - Arthritis Relief Gloves
Available For A LIMITED Time, So Get Yours TODAY!
100% Quality Guaranteed Plus Secure Shipping
Pick Your Colour

 

and

 

Size
Click on the

 

Buy It Now button
Product in High Demand. Whilst Stock Lasts!
WHY BUY FROM PR GLOBAL STORE
PR Global Store was founded in the heart of the United Kingdom with the goal of bringing year round, outside-the-box shopping because as we all know, gifts aren't just for Christmas. We stock nothing but the most innovative and unique products so that you may never again have to hear those dreaded words, "did you keep the receipt?".
The great support we've received from our UK customer base over the years has allowed us to extend our reach to over 50 countries via International Distribution Centres. 
Customer Service is a huge priority for us because let's face it, without you guys none of this would be possible! For this reason we offer around the clock support via email and are happy to answer any questions you may have.
We're so confident in the quality of all the products we design and stock that we offer a store-wide 90 day guarantee on absolutely every item in every single order. So whether you're shopping for a friend, family member, other half or simply looking to treat yourself, enjoy it all with the added benefit of being 100% risk free! 
Click on Buy It Now and experience the PR Global Store Difference
Product reviews
38 reviews
It came on time. A little pull, my size is 7.5.
Goods consistent with the description.
The gloves were as described and shipped quickly.
Fits like a glove :) perfect size
The parcel went a little more than a month, the gloves are comfortable, the compression of the fingers would be desirable on the wrist. odorless, the seams are good. thanks
Gloves are good, there is especially no smell. It was necessary to take a smaller size, m-Ka is too big. I do not expect a special effect from them
Delivery less than 4 weeks, gloves packed in an envelope, thrown in a mailbox. I took my mother, she has arthritis, I hope, at least some benefit they will bring, while it is early to judge. Maybe it was necessary to take a smaller size so that the squeeze effect was stronger, but mom says that and so good. In general, mom is happy, and this is the main thing. Thank you seller!
Hi. Gloves are good and fit well on hands. Quality is really nice. There is little feeling of pressure so it's equal with description. Shipment time was standard - 4 weeks. I can recommend this seller.
I arrive within the date the fabric looks good quality, I still haven't tried them working to see if it works!
I have just started wearing these gloves, but so far I have been pleasantly suprised. They fit very comfortably. I wore them all night while I slept when I first got them. They caused slight discomfort for about 5 minute until I got use to them. Afterwards my hands warmed up and the discomfort went away. For the first time in a very long time my hands didn't hurt so bad so as to wake me up during the night as usual. The next morning my hands were noticeably less painful, swollen and stiff than usual. I am very impressed by these gloves so far.
I do not know what effect will be. i will write later. the quality is excellent, the main thing is to take the right size. the seller is 5 Stars!!!!
My wife bought this after she got surgery because of pain and it is helping her in a good way. It is comfortable and it is easy for movements. I totally recommend this product.
i'm glad i bought Large size . i think it helps in some way
I was a bit doubtful at first as i saw only bad reviews about this company on trust pilot and wanted to cancel it! They couldn?t cancel the order although i sent the cancellation email 3 min after placing the order and i got the dispatch email 7 hours after my cancellation one! Anyway a few weeks after placing the order it arrived, good packaging and gloves were as described! I don?t know why they are named NHS as they are not endorsed or approved by them, and you can get ?10 cheaper ones , but all in all cant complain really! I got what I ordered, in the time I ordered it
Warming & supportive, with fingertips fine for keyboard work.
Got these for my partner, she suffers from arthritis in her hands and the gloves seem to give some relief to her.
Lovely wee gloves ?? support old bones ?? warm and cosy to wear ????
Gloves fit well and do the job intended but stitching around right thumb ripped a bit when first put them on
Took a while to get here, but very pleased with them, there sturdy, and help with my arthritis.
would not be without my gloves great help for the old bones i love them have bought two more pairs for my friends
Medical science has not yet found a cure for arthritis, and these gloves certainly will not do that. However, I have found them comfortable to wear, without restricting any day to day tasks, and I do the feel the warmth and the mild compression of the gloves do provide a degree of relief. I would recommend giving them a try.
Certainly helped me to manage the arthritis in my thumb and can say there is much less pain now.
I was a bit concerned by some of the reviews about delivery, but actually these guys sent regular emails keeping me informed, and I was able to track the product (although it did appear to be sat in Shanghai for a long period!). Product arrived and ?does what it says on the can?. I also bought a pair from Boots which were more than twice the price - the stitching came apart after just 3 times of wearing them. Definitely go with these!!
I was a bit dubious that the gloves would have any effect on my symptoms, but they improve my arthritic pain in my fingers.
Made a real difference to my hands and fingers which were painful and sore especially in cold wet weather.
Brilliant for my husband. Thank you.
Great gloves really help with my sore hands and wrists would recommend well worth the money
My work entails a lot typing and si ce having these ovrs my hand does not hurt as much at the end of the day. Also it is very warm and comfortable. Thank you
Excellent! Just ordered a second pair!!!
Having suffered recently from arthritis in both writs and hand, I purchased the gloves whic have proved to be extremely useful in supporting my problem. Thank you.
thanks for the service , very good product and nice, packaging appreciate all this!!
Compliant product size corresponds delivery more than a month before the scheduled date.
It looks like a good product