Battery Storage Organizer with Tester 98 Batteries
Battery Storage Organizer with Tester 98 Batteries - PR Global Store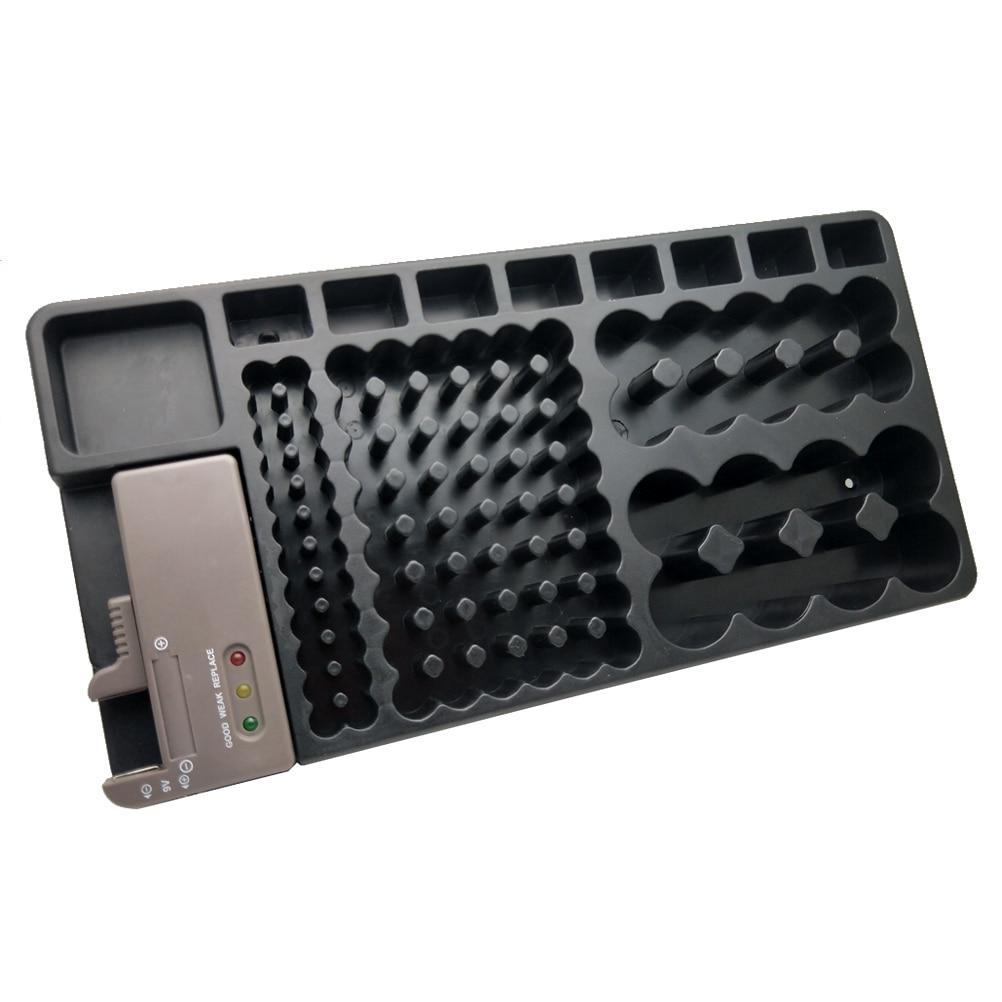 roll over the image to zoom in
---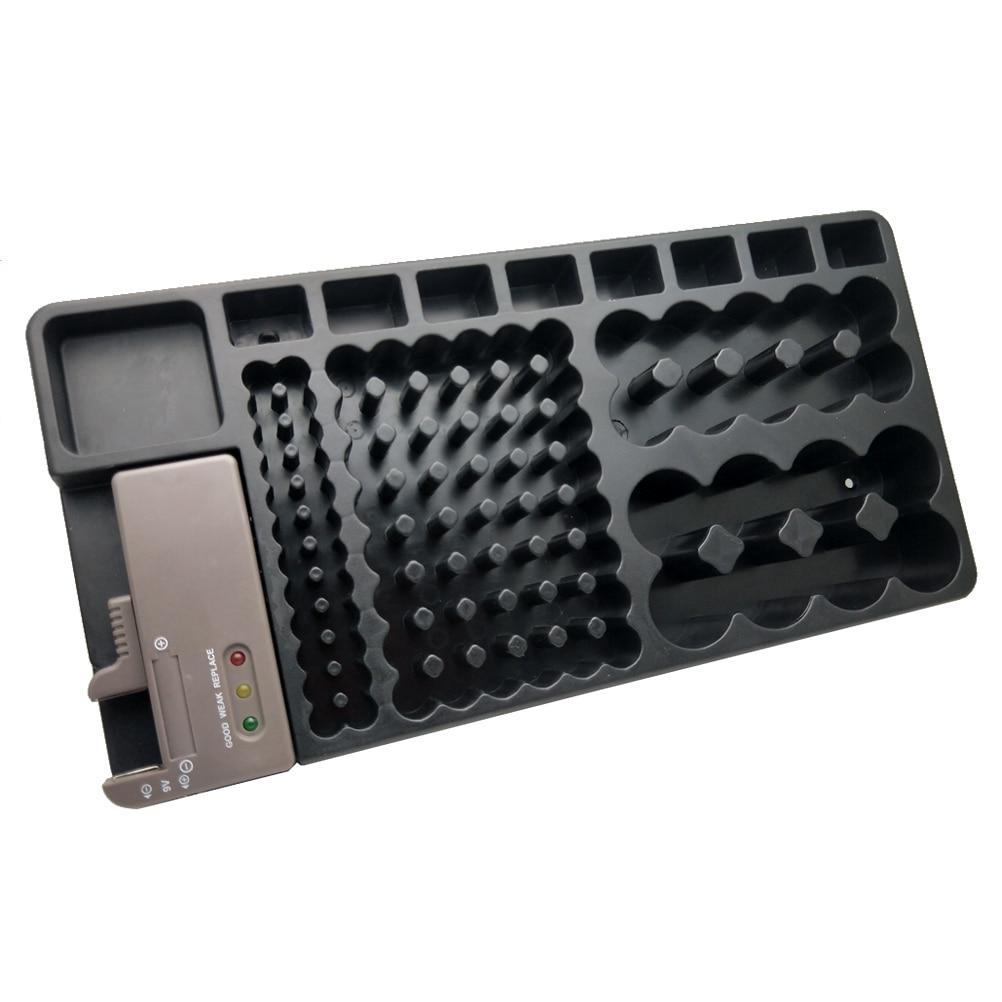 Product details
Say goodbye to the chaos of cluttered, unorganized drawers and say hello to the handy, Battery Storage Organizer with Tester! This convenient organizer features various slots that are the perfect size for different battery types, plus it has an integrated battery-power tester. Keep up to 98 batteries in this handy box and then store it easily and neatly in a drawer, cabinet or closet. This organizer can also be mounted to the wall, for maximum, space-saving efficiency. 
Features: 
Neat Storage Option- 

 

Free up your valuable drawer space and de-clutter with this innovative battery organizer. The perfect place to store all of those extra AA and AAA batteries you have squirreled away around your home.
Easy Access To Batteries- Holds 54 AA, 36 AAA, 5 9Volt , 5 C, 4 D, & 6 WATCH BATTERIES: This battery storage organizer has a place for batteries of every size. They're easy to see and sort, and you know when it's time to restock!
Removable Power Tester-

 

Check your batteries (even rechargeable & lithium) and never toss out a good battery again - Tester is powered directly by the battery being tested.
Easy Storage-

 

Place your battery organizer in a cabinet, closet or drawer or mount it to the wall using the included mounting hardware. Features swivel and slightly angular storage rows for easy removal of batteries whether stored in the drawer or on a wall.
Efficient Design-

 

The ultimate option for battery organization, this battery storage option features an efficient design and is constructed of durable, plastic.
Product Details:
Color: Black
Material: Plastic, Acrylic
Size: 13.78 x 6.69 x 1.57 inches
Package Contents

:

1 x 

Battery Organizer with Energy Tester (BATTERIES NOT INCLUDED)
This item is a battery storage organizer with a removable battery tester and a capicity of storing up to 98 batteries in various sizes. The tester doesnt require any batteries for operation. It works on the power of the battery you are testing. This item greatly help to eliminate your cluttered drawers and closets to keep your batteries neat and organized. Perfect for storage of AAA, AA, D, C, 9 volt and button cells.

Features

- Color: Black
- Size: 35 x 18 x 5 cm (L x W x H)
- Material: Plastic
- Made of durable plastic material, durable, sturdy, simple and easy to use.
- Classified compartments. Easily and neatly organize your batteries in order.
- Store it flat in a drawer or closet or mount it on the wall.
- Includes a removable battery tester, very handy for battery test.
- Holds up to 98 pcs batteries in different sizes. 48pcs AA, 24pcs AAA, 8pcs D Cell, 10pcs C Cell, 8pcs 9V, and several button cell batteries.
Available For A LIMITED Time, So Get Yours TODAY!
100% Quality Guaranteed Plus Secure Shipping
Pick Your Colour

 

and

 

Size
Click on the

 

Buy It Now button
Product in High Demand. Whilst Stock Lasts!
WHY BUY FROM PR GLOBAL STORE
PR Global Store was founded in the heart of the United Kingdom with the goal of bringing year round, outside-the-box shopping because as we all know, gifts aren't just for Christmas. We stock nothing but the most innovative and unique products so that you may never again have to hear those dreaded words, "did you keep the receipt?".
The great support we've received from our UK customer base over the years has allowed us to extend our reach to over 50 countries via International Distribution Centres. 
Customer Service is a huge priority for us because let's face it, without you guys none of this would be possible! For this reason we offer around the clock support via email and are happy to answer any questions you may have.
We're so confident in the quality of all the products we design and stock that we offer a store-wide 90 day guarantee on absolutely every item in every single order. So whether you're shopping for a friend, family member, other half or simply looking to treat yourself, enjoy it all with the added benefit of being 100% risk free! 
Click on Buy It Now and experience the PR Global Store Difference
Product reviews
4 reviews
A brilliant idea Every home should have one
Chic organizer for batteries, the tester works properly, I recommend the store!!!