2 in 1 Hair Dryer Brush Straightener and Volumizer
2 in 1 Hair Dryer Brush Straightener and Volumizer - PR Global Store
roll over the image to zoom in
---
Product details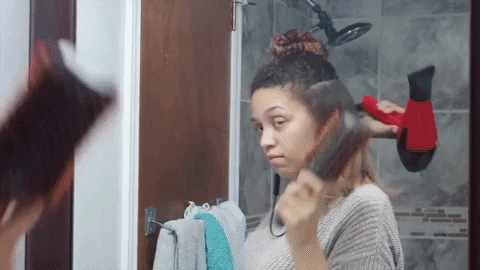 Does drying and styling your hair stand between you and getting out the door on time? Do you want perfectly styled, voluminous tresses without spending a fortune at the salon?
Well, You don't have to wait until your next haircut to snag a picture-perfect blowout! it's time to say BYE to frizzy and unmanageable hair and get salon-styled lustrous, smooth, and voluminous tresses in up to half the time at the comfort of your home with this all-in-one Hair Dryer & Volumizer, 2-in-1 Hair Dryer Brush Volumizer.
KEY BENEFITS:
This revolutionary hairbrush is the perfect combination of a hair dryer and a styling comb, designed to quickly dry your hair while detangling, straightening and volumizing it simultaneously. You can use 2-in-1 Hair Dryer Brush Volumizer on both dry and damp hair and create your favorite hairstyles, effortlessly!
It features an oval-shaped ergonomic design, 3 different heat levels, and dual bristles with a ceramic coating that protects hair from over-styling. The brush ensures even heat distribution, crafting professional-level bounce, shine, and volume in no time.
Whether you are going to a meeting, attending a party or just out and about with your friends, 2-in-1 Hair Dryer Brush Volumizer could be your one-stop solution to gorgeous, salon-like hair every day.
FEATURES
Oh-so-Gorgeous Hair: Don't you just love the way your hair bounces effortlessly with that beautiful, healthy sheen after a blow dry at the salon? Well, you no longer need to shell out hundreds of dollars to get it done by a pro! The multifunctional brush features unique airflow vents that provide better coverage while the brush quickly creates frizz-free volume and shine, so you can have the best hair day, every day.
Drying and Styling in One-Step: Achieving that perfectly smooth and bouncy blowout doesn't have to be time-consuming! 2-in-1 Hair Dryer Brush Volumizer is designed to provide volume and gorgeous blowouts in just one step. Its unique Ion Technology uses negative ions that saturate the airflow to dry your hair faster. The brush also conditions and smooths it while reducing frizz and static in up to half the time than traditional drying and styling.
No More Hair Damage: Unlike your regular hair dryers, 2-in-1 Hair Dryer Brush Volumizer can be placed closer to the scalp for better results while protecting your hair from excessive heat damage that comes with styling.
It features tangle-free bristles with insulation ball tips for easy detangling and helps to dry, smooth, and style hair at the same. Tresstyle's ceramic coating prevents over styling whereas the even heat distribution makes it safe and perfect for every hair type.
Easy to Use: The styling brush comes with 3 different heat levels (cool, low, high) to choose from, depending on your hair type, thickness, or preference. HIGH HEAT for thick hair, LOW HEAT for fine/damaged hair and COOL SETTING to set hairstyles. Simply twist the gear switch to the desired setting, comb through damp/dry hair and style it to perfection. You are going to love how fast and effortless it's going to be, to style your hair.
Ergonomic Design: 2-in-1 Hair Dryer Brush Volumizer is specially designed to provide ultimate comfort and ease during your styling sessions. It is extremely lightweight that you can literally use it with a hand and yet achieve professional results in no time. The brush is compact in size and easy to store, which makes it a perfect choice for carrying on the go.
Available For A LIMITED Time, So Get Yours TODAY!
100% Quality Guaranteed Plus Secure Shipping
Pick Your Colour

 

and

 

Size
Click on the

 

Buy It Now button
Product in High Demand. Whilst Stock Lasts!
WHY BUY FROM PR GLOBAL STORE
PR Global Store was founded in the heart of the United Kingdom with the goal of bringing year round, outside-the-box shopping because as we all know, gifts aren't just for Christmas. We stock nothing but the most innovative and unique products so that you may never again have to hear those dreaded words, "did you keep the receipt?".
The great support we've received from our UK customer base over the years has allowed us to extend our reach to over 50 countries via International Distribution Centres. 
Customer Service is a huge priority for us because let's face it, without you guys none of this would be possible! For this reason we offer around the clock support via email and are happy to answer any questions you may have.
We're so confident in the quality of all the products we design and stock that we offer a store-wide 90 day guarantee on absolutely every item in every single order. So whether you're shopping for a friend, family member, other half or simply looking to treat yourself, enjoy it all with the added benefit of being 100% risk free! 
Click on Buy It Now and experience the PR Global Store Difference
Product reviews
22 reviews
Very late delivery, however the product works well.does the job, easy to use, quite light . The smell we were warned about goes away after a few uses. Mastered natural waves with it, just haven?t figured out the bouncy tight curls yet. I use it on low and even on low it?s pretty fast, good heat. The brush was a little ?unfinished details ?- it has some black plastic bits (thin) sticking out around the edges, but nothing major. I got what I paid for. The little black end it?s great as you can hold it while pulling the brush down, and it does not get hot. Im guessing it works just as the big branded ones, so i saved money. The hair looks silky and the brush gives it a natural look. Overall good value for money. Go for it girls
A little mustache wrinkled, everything works, there are 3 modes, I do not know how much will last, in appearance the quality of 10 to 7
It arrived on time. Very well packaged but the box was still damaged (this is a big problem with imports to my country). Has a good temperature and is easy to use.
It came well packed though there?s slight damage on the bristle. Its working though. I didnt encounter problem at all.
The box is a little damaged but the brush has nothing. Conform to the description, light to wear. All I have to do is try.
absolutely brilliant, leaves hair very smooth and v easy to use. arrived well packaged and seller was v helpful
Everything came whole, works, small smell of plastic when turned on ..
I am very happy with this product. Excellent quality, very useful.
Came for two weeks, packed well enough. The box is slightly wrinkled, but it did not affect the phena. Three power levels. The indicators of the inclusion of the hair dryer in the socket and different capacities. when working a little electrifies the hair. The brush is soft, does not scratch the head. Suitable for straightening and styling without Curling. tried on dry hair. I liked it. I recommend
Very disappointed the seller has for nothing basic but very bad communication the product arrived with folded peaks. The seller refuses the dispute and proposes to send me back the packaging I do not recommend
Great Hair Dryer, the Brush is much bigger than thought, just fantastic, the Hair Dryer was in a thick bubble wrap super safe packed, Thank You! A Exe lenter Seller!!!
Great hair dryer. I thought he would be a little less). At the same time in the hand to hold comfortably. Hair does not tear. Perfectly dries. Powerful enough. Thank you to the seller. I recommend
I was recommended this product my hairdresser. It is amazing. Dries and styles in 10 mins without the need to use 2 brushes. I have shoulder length hair. I was sceptical about using this at first but that soon dispersed.
Very pleased with the product, lots of volume and dont Take half as long to blow dry... would definitely recommend.
I'm so pleased with my purchase It's so easy to use all my family and friends what to buy it
Was amazed at the time it took to dry and straighten my hair was recommended by my daughter usually took 1 hour45 mins it only took about 30 mins on cool no need for straighteners my frizzy curly hair was soft and smooth without the use of damaging heat really good product
I had my first one for a couple of weeks when it stopped working. I contacted them straight away and they sent me a new one. It has been great so far gives my hair more volume & dries my hair quickly.
used it for the first timethis morning, took a bit of getting used to the size and weight, but dried my hair quickly and well. No more juggling with a brush and hairdryer. Also, the first dryer i received was faulty but it was replaced quickly without any quibble. Thankyou for the good service. GreenGranny
Great hair product and a must have in addition to the traditional hair dryer
Very nice Brush and very easy and convenient to use. Definitely recommend.